Sarah Swaps the Pillion for the Throttle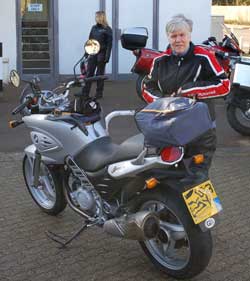 After many years of sitting on the back of a bike Sarah decided to get a licence. A local CBT was followed by a few weeks on a Honda CG125 and a Direct Access Course at BMW Rider Training and a full licence. Not bad two years short of an old age pension!!
Sarah now rides a F650CS. Not because it's a BMW, it was simply about the only bike apart from 125s and cruisers that allowed her to get her feet anywhere close to the ground. It was still necessary to wind all the preload off the rear shock, move the forks about 30mm up the yokes and fit risers to move the bars up and back.
It's a shame that the CS is not more popular, although it's one of BMW's quirkier designs. It is a practical enjoyable bike with quick steering that makes it fun on back roads but with enough poke to enjoy a good blast. A friend with a Yamaha R6 tried it and loved it.
Sarah is quite capable of taking on couriers in London traffic and keep up with all the big Beamers on ride outs. She also proved her off-road skills when she overshot a bend on a ride out, and completed the turn on the grass verge before bumping back on the road and carrying on with various bits of foliage stuck to the near side of the bike. It's a CS not a GS Sarah!!
BMW Rider Training
Sarah failed her first test on the hill start but tried again a couple of weeks later and passed with flying colours and was very impressed with the training and the set up. The cost of the course was comparable with local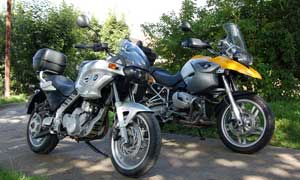 schools (but unless you live nearby you need to allow for accommodation) and they have a fleet of brand news GSs to learn on plus decent riding kit. They don't seem to mind when you drop them either - as Sarah did often when trying to do the U turn! A bit different from most schools which seem to sport a range of second hand machinery.
The quality of the training from Kevin Sanders and Emmett Reidy made every day a pleasure. Those guys live and breath bikes and when they are not teaching they are involved in something on two wheels.
Note from Husband on BMW Training
The day that Sarah had her retest I woke up in the night and decided to drive down to Wales and meet her after her test. I know its daft doing a 380 mile round trip in December for no other reason than say well done but I ride a GS so any excuse will do.
Anyway, I found the little village industrial estate where the school is located but could not find the school. After driving around for a bit I recognised a guy coming out of an unmarked building as Simon Pavey. He had seen the BMW driving past and assumed I was looking for the school (note to BMW. Put a sign on it. What happened to the BMW Corporate Identity?). He invited me in for coffee and spent an hour chatting - about bikes of course. Sarah came back and more coffe and another hour chatting with Kevin, who took Sarah to her test, and Emmett who turned up later just to see how she had got on.
I then discovered that the school was supposed to be closed until the new year but they had opened up just to give Sarah and another learner an extra day's free training and a retest. Everyone there was very friendly and they live and breath bikes. I have no experience of their training but from their whole attitude to biking and the patience they showed when Sarah was struggling a bit I would highly recommend them.