Eye Candy
(or the bits that don't actually do anything)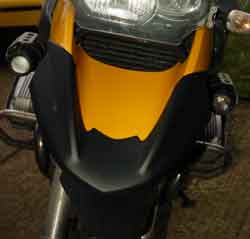 Black Plastic Beak
Touratech etc. have been selling these for a while and claim they protect the front end from damage. Don't really think they make much difference but they are standard on the Adventure and give it more of an aggressive look.
I would not spend the £50/£60 they normally cost but there has been a glut of BMW ones on eBay recently and I got mine for under £20.00.It came complete with fitting kit and took about 2 minutes to fit. No mods to the bike are needed but I think it may leave marks on the original plastic if it's removed.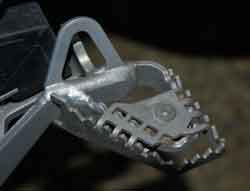 Rear Brake Pedal Extender
This comes under Eye Candy as it does not really do much. Again it came from eBay and I thought it might make using the brake easier with my size 11s. I bid £10 and got it but it makes little or no difference and I only use the rear brake about once in six months anyway.
If you do want one it comes from Touratech and fits with one screw with no modification to the pedal.
Other Bits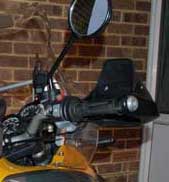 At one time I had the Touratech satnav bar that fits over the instruments. The snag is that it really does fit OVER the instruments. It puts the satnav in a good place put covers half the instrument cluster. It lasted about two days. When I fitted the Adventure screen I thought the Touratech satnav mount that fits on the top screen support seemed a good solution. Everything looked good until I drove the bike and discovered the satnav vibrated like crazy. That did not last long either.
I will also include the handguard extenders under eye candy as I have not noticed any difference in hand protection with or without them. Again they are easy to fit but a couple of small holes need to be drilled in the original hand guards.