My First PROPER Bike
Ariel Arrow "Super Sports"
When, at 17 years old first saw this bike at Deeprose Motorcycles in Blackheath, London I fell in love for the first time. It was £200 brand new and for an apprentice engineer earning £5 15s 6d (£5.77 for our younger viewers) that was a fortune. I had to have it - and I did once I got my pay rise of 2d per hour.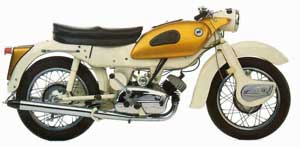 At the time it was a very unusual and rather quirky motorcycle. When most bikes were built from the same mould of steel frame, upright single or twin four stroke engine and simple sprung forks the Ariel stood out and had a lot in common with today's BMWs in that it broke the mould of how a motorcycle should be built.
The frame was a long steel box running from the head stock to the rear suspension and was very stiff. The fuel tank was under the seat (as BMW F560) and the tank was a dummy with a useful "glove box" (as BMW Scarver). Power was from an inclined 250 cc two stroke which needed premixed petrol and oil. no problem then as all filling stations had 2 stoke oil dispensers on the forecourt. You just told the attendant (yes an attendant) how many squirts per gallon you wanted. The front suspension was trailing link (back to BMW) and compared with the forks at the time were very stiff and gave precise steering.
Very soon the bike sported a glass fibre fairing from Pride and Clarke's in Brixton and a pair of fibre glass panniers that made all my clothes smell of resin but it was wonderful.
I joined the Bexleyheath and District Motorcycle Club and the Ariel was used for commuting, ride outs and
club trips to the West Country at Easter. Those were the days, no motorways and Little Chefs, few overnight fillings stations and the run from London to Minehead, overnight, was a major expedition. Worrying about fuel and cold and thirsty as there was nowhere to fill up bike or rider between London and Honiton. Driving through little villages in the small hours and smelling the hot cross buns cooking in the local bakers.
When we arrived at the B & B in Minehead everyone had a much deserved coffee with hot cross buns and swapped stories on the problems of getting there as few bikes could handle the trip without some sort of problem.
One problem with the Arrows was the two stoke engine. Mine had a habit of blowing the crankcase seals which lost primary compression reducing the limited performance even more. At least two stokes were simple though so a regular job was decarbonisation by removing the head to scrape the crap out. It also seemed to use a lot of chains and I remember trying to get up Porelock Hill in Devon with the chain jumping the rear sprocket. Looking back though this probably was not helped as the replacement chains were "industrial" quality borrowed from the company engineering stores.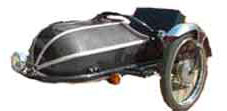 The days of the Arrow were numbered when, on returning from the club one evening, on the pillion of my mate Ron Pattendon's Triumph Thunderbird, a car came out of a side turning and we hit it. Nothing changes. I suffered a broken collar bone so couldn't ride and my parents offered to fund a Mini,. Anything to get me off bikes. The Mini was great for a while and it even got four of us over to the Isle of Man for the TT - but guess what. A car came out of a side turning, I hit it and the Mini finished up on it's roof in a front garden!! That was the end of the Mini and I went back to bikes with a BSA Gold Flash and and a Stieb sidecar.